When Speed to Market Counts – We Deliver
For Illinois Craft Grow
Licensees
You have finally received your Illinois craft grow license after a wait that was significantly longer than anticipated when you started the process. For those fortunate to receive a license, the gravity of the actual work ahead has just begun to set in. The road ahead seems daunting: Over the next 6 to 9 months (or even more), you will have a long list of to-dos: raising money, locating property, building facilities, acquiring dispensary customers, and so on. Maximizing your yields quickly and efficiently will go a long way to your success!
Why not use that 6 to 9 month period in a more efficient way?
We can help you with ground-up builds of your Illinois craft grow facility in as little as 3 months. We can speed up retrofits by weeks and even months, although they typically take longer than new facility builds that use our partners (such as Sprung Structures) as key components in the supply chain. Not only can we save you time, but using our service helps minimize operational costs, increased output, and maximized return on investment!
What can we do in terms of speed?  We work with Sprung Structures, which was able to deliver a 50,000 square foot clear span cannabis drying and processing facility to Canadian cultivator WeedMD in just 3 weeks. And Sprung delivered a 150' x 915' Tesla auto factory that was  constructed in only 19 days.
Our industry leading delivery times are one of the best solutions for Illinois craft growers when speed is essential for you to get ahead in the fierce competitive environment. Your lead times and operational optimization are core components of our value proposition.
More than just saving time: Money and quality matter as well!
Speed to market is one of the key values we offer Illinois craft grow licensees, but we has more to offer than just speed. We assist with cultivation planning that focuses on quality systems, product lifespans, energy efficiency, biosecurity, operational excellence, installation savings and ease of ongoing maintenance. Working with leaders in the industry, we have commissioned over 300,000 square feet of cannabis cultivation facilities with a number of repeat clients so far in 2021.
We provides a full line of services including assessment, design, build, and start-up. We are your trusted advisor to assist  you and your team design and implement the systems that best fit your operational, budgetary, and scalable needs.
What is our solution for Illinois craft grow facilities?
The foundation of our solution is a tension membrane and modular wall facility that will ensure timely commencement of grow operations in a clean, secure, and airtight structure. These facilities have warranties that exceed conventional building components.
Worried about security? Sprung has been used for construction of prisons and casinos worldwide – two of the most security conscious industries you can think of!
Due to Sprung's large in stock inventory, our fast delivery and lowered installation times can also deliver up to 6 months of incremental harvest revenues compared to a traditional warehouse retrofit!
A second key component is to use modular rooms inside. Porta-King has been a leader in modular construction for 50 years. They deliver quickly and on time, with minimal shipping costs from their strategically located factory in Missouri just outside of St. Louis.
Both Sprung and Porta-King offer a variety of other buildings from storage to guard shacks and more – quality construction products that many cultivation facilities need.
Besides the normal issues that every business owner may encounter, cannabis cultivators face a long list additional hurdles created by state cannabis regulations. We help you mitigate and clear these hurdles with quality planning and design.
When it comes to Illinois craft cultivation facilities, our sealed, airtight cultivation facilities will pass applicable state regulations. We also provide craft growers with high-performance DLC-listed LED lighting and engineered HVACD solutions as required by Illinois regulations. They are all cost-effective and meet (or even exceed) state regulatory standards.
We all know that cannabis plants require an environment that best suits them to thrive. Traditional HVACD systems cannot create and maintain that optimal environment due to their inability to effectively control elements such as airflow, humidity and CO2 levels. Fortunately, you have our partner Surna Cultivation Technologies to assist you in identifying and qualifying the systems that can handle the challenge of cultivating cannabis in a controlled environment in a timely manner while meeting state regulatory requirements with proven experience in more than 800 indoor agriculture facilities.
Our HVACD solutions will ensure you meet your crop yield targets, maintain lower operating costs, and put you in control of the environment the plants need. Our suggestions are based on experience, company reputation, product performance, maintenance requirements, certifications, functionality, and of course, pricing.
Financing is also available to qualified cultivation licensees for the external structure. To lower operating costs for growers, we offer highly energy-efficient alternatives that lower ongoing operational costs. Our recent clients have saved more than 30% in acquisitions costs on lighting alone with quality products that meet and exceed the standards required by Illinois.
Our structural and modular wall components are expandable and relocatable. As a result, we can scale your facility effectively if your allowed canopy is increased with minimized costs, time and disruption.
Current craft cultivation regulations allow cultivation licensees to start out with 5,000 square feet of flower canopy space. This may expand to as much as 14,000 square feet based upon approvals and proposed regulatory changes. We provide a flexible solution ready to grow with you!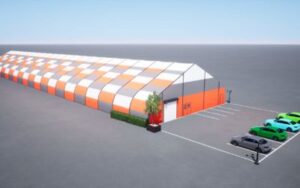 Sprung Structure – Illinois Craft Grow Model
For four generations, Sprung (www.sprung.com/cannabis-buildings) has designed solutions for every conceivable application and provides inventory-ready building solutions that consistently outperform other building alternatives. Sprung structures can be dismantled, reconfigured, re-erected, or relocated for almost any number of applications and virtually every market sector in the world. Sprung structures provide bright, spacious high performance, energy efficient environments. To date, Sprung has completed over 12,000 structures in more than 100 countries worldwide.
Warehouse and Industrial Retrofits
If you already have a facility that needs to be retrofitted from its original purpose, we can assist you in a proper design and build out that will also take weeks off your timeline. Retrofits create more problems later if not done properly, we can stop those growing pains before you have them with best practices and design.
Together, we need to start your assessment now. By involving us early on to work with your architects,engineers, and contractors we can provide the most value to the process of designing and building your cultivation facility while immediately lowering costs to you. Early engagement allows us to guide you and your professional team to address issues specifically relating to cannabis that we may have seen in our past projects. It is important to note that cultivation of quality and consistent product is where the money is made and that starts with a quality facility and operational design plan. Building out the facility is your first, and most important hurdle,to address afteryou receive your craft cultivation license.
Click For Free Consultation & Assessment
Randy Shipley is a co-founder and the President of RSX Enterprises and is responsible for sales, marketing, product development and technology.  He also leads RSX's design, build and facility start-up advisory services team, with a focus on assisting cultivators with facility and floor plan design assistance for lighting, benching, HVACD and other critical growing systems. Connect with Randy on LinkedIn