Optimized Environmental Planning
Environmental Optimization : Operational Efficiencies For Controlled Environment Agriculture
RSX works with your engineer and architect to scope and specify the proper equipment and systems that optimize the operations and efficiency of your facility and growing environments.
Why is Controlled Environment Agriculture (CEA) so Important for Cannabis Growing?
Unlike other crops, cannabis yield cannot be measured solely the number of flowers or leaves. To produce high quality cannabis, growers must understand the environmental factors that enhance the chemical compounds produced by the cannabis plant. That is why indoor CEA facilities are critical to consistent yields and quality uniformity between harvests, while allowing year-round growing with maximum harvests per year.
Indoor CEA production attempts to control the following critical nine parameters to optimize yield and quality: lighting, temperature, humidity, CO2, air flow, water, nutrients, oxygen and root-zone temperature.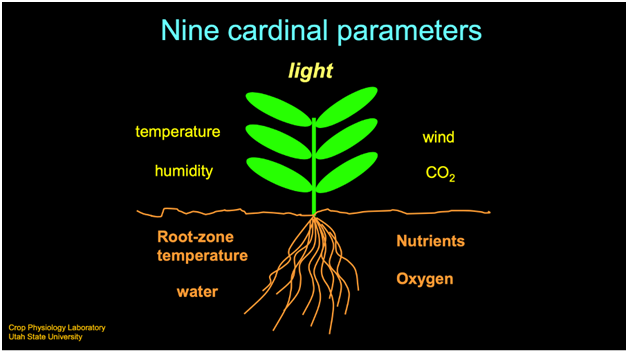 Lighting – Light (radiation) is the most critical parameter and drives the other 8 parameters. With advances in LED lights, growers can now easily increase the amount of light they provide to optimize the other 8 parameters. In other words, increasing your Photosynthetic Photon Flux Density (PPFD) can influence plant growth (measured by dry weight) and plant development (measured by plant shape) – key drivers to the health and quality of the crop. Proper lighting lay-outs must also address interconnectivity, mounting and support issues which can save thousands of dollars in electrical installation costs and provide for more cost-effective relocation, maintenance and increased ability to scale.
HVACD and Air Circulation – Indoor CEA requires HVAC and dehumidification equipment to maintain proper temperatures in cultivation spaces, manage the moisture produced by the plants, and minimize disease, mold, fungus and pests. There are now more HVAC options than ever. These options include but not limited to 2- and 4-pipe chilled water systems, standard DX (direct expansion) systems, DX systems with stand-alone dehumidifiers, variable refrigerant flow (VRF), and packaged DX systems to maintain optimal conditions for indoor cultivation to produce enhanced yields and consistent quality.
Benches/Racking – Today, the flexibility and customization of rolling benches can result in up to 90% of a growing room's square footage dedicated to canopy with multi-level racking systems able to increase canopy in a room by 2 or 3 times. Rolling benches also provide greater control of growing conditions including adaptable airflow systems to prevent "hot spots," bench-mounted lights to create more uniform and constant PAR to the plant, built-in drainage systems to keep growing area clean and foster better pest management assisting in creation of a safer, highly accessible and efficient work environment.
Biosecurity & Odor Mitigation – Effective biosecurity starts with an integrated pest and microbe management systems designed to prevent, reduce and eliminate the conditions that lead to insects and microbial organisms such as fungus, mold and mildew. For indoor cultivation, it is imperative that growers have a cultivation facility designed for a proper work flow and room separation to prevent cross-contaminating one area to the next. Odor control, a regulatory hot button for local governments, is also possible with a variety of air cleaning technologies such as carbon filtration, masking or neutralizing agents, air treatment systems, and oxidation systems, each designed to significantly reduce the odors emanating from these facilities.
Fertigation & Water Management – Fertigation is the critical process of supplying nutrients through an irrigation system – using either dilute tank control or in-line injection methods – to produce a consistent quality crop and higher yields. Automated dosing systems, while more costly and complex, can provide fertilizer/labor costs savings and reduced water runoff in grow facilities. Depending on the design facility, automated dosing can also be integrated with your irrigation scheduling/system to monitor tank levels, electrical conductivity (EC), pH, acid/base dosing equipment, water temperature, soil moisture levels, leaching rates (over drain) and more.
Controls & Sensors – Successful cultivators are harnessing the power of technology, coupled with improved workflows and standard operating procedures, to maximize production efficiency to avoid grow room downtime, tweak environmental parameters, and ultimately produce a better product. Today, using a software centric, hardware (sensor) agnostic approach, cultivators of all sizes can access an integrated, cost effective and scalable controls solution to schedule and control lighting, track and automate environmental systems, schedule and predict watering, and receive 24/7 monitoring and alerts. Using these technologies, grow spaces can be built or retrofitted to combine the reduced labor costs and energy efficiency of automated indoor cultivation with invaluable information about performance, quality, and financials.
Building Structures & Modular Walls – With licensing and regulatory delays almost certain as more states start-up their newly-legalized medicinal and recreational cannabis programs, time-to-first-harvest will take on greater financial importance. Fabric tensioned structures and modular walls, which are engineered for airtightness and extreme cultivation conditions and can be easily anchored to existing asphalt or raw earth(without foundations), can be used for any indoor grow or greenhouse project with a much shorter time frame for completion compared to conventional steel construction. Even a minimum 8-week construction time saving can equate to one full harvest crop value. A recent case study in Illinois of a craft license with 5000 square feet of flower canopy demonstrates increased revenues of $2.5M resulting from reduction of construction times by 90 days.