RSX will assist you in identifying and qualifying the equipment and systems offered by our industry-recognized vendor-parents. Our recommendations of qualified vendors are based on the experience and industry reputation of us and our vendor-partners, as well as product performance, certifications, functionality and pricing. Some of our vendor-partners may also provide financing or leasing options to qualified customers.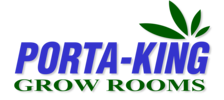 About Porta-King
For over 50 years, Porta-King (www.portaking.com/modular-cleanrooms/grow-rooms) has manufactured modular wall systems that have been used for thousands of unique construction applications across North America. Porta-King provides its customers with cost effective, highly functional, easy-to-assemble alternatives to conventional construction. Porta-King structures are durable, versatile, and 100% customizable.
Porta-King's wall systems are ideally suited for constructing grow rooms inside new buildings or for retrofitting existing structures. The Porta-King team works with growers to design a layout to meet your specific floorplan. The prefabricated, modular design means the materials arrive ready for immediate installation and a minimum 50% faster set-up time compared to conventional construction. Performance advantages include:
⦁ Mold resistance wall panel construction,
⦁ Prefinished, impact resistant wall surfaces,
⦁ Easy to seal connections to reduce air movement, and
⦁ High light reflective panel surfaces.